Give a gift of Lake Bluff! The Lake Bluff History Museum has a variety of Lake Bluff-themed merchandise available for purchase, including several items that portray the beautiful Lake Bluff map painted by local artist Mark McMahon for the village's 125th Anniversary.
The Lake Bluff History Museum also offers engraved commemorative bricks that are placed in the patio out front of the museum and library building. The bricks are a gift that keeps on giving, while also supporting the Museum and Friends of the Lake Bluff Library.
Map-themed merchandise will be available for delivery to Lake Bluff, Lake Forest and surrounding areas. Or you may arrange to pick up your items curb-side during select hours at the Lake Bluff History Museum.  Customers will be contacted by email to let them know when items are available for delivery or pick up.
Out-of-town orders will be charged a shipping fee based on the weight of the order.
Here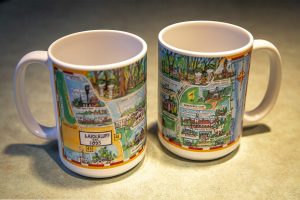 Colorful mugs highlight key locations in Lake Bluff, from 1895-present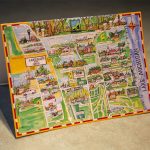 Boxed notecards and envelopes (10 per box) display a whimsical map of Lake Bluff created by Mark McMahon.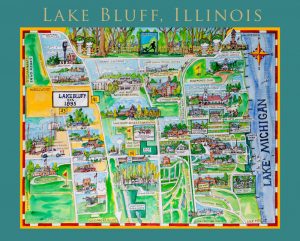 This delightful map is also available for purchase for $20 as a poster measuring roughly 15.5″ x 19.5″.  Poster options include a blue background and an olive green background.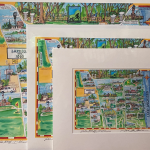 It also is available as fine art gliclee prints signed by the artist. The gliclee prints are offered in the following sizes:
10 x 12 matted to 18.5 x 16 – for $175
16 x 20 image for $250
22 x 30 image for $400
For all map merchandise, original art work is by Mark McMahon and copyright by McMahongallery.com. Make your product selection and use the Add to Cart button to order mugs,  notecards, posters and gliclee prints now.
---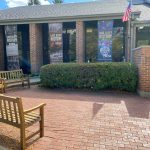 For commemorative bricks, use the form below: