In 2019, the Lake Bluff 125 Committee spent months planning events to celebrate the 125th anniversary of incorporating as a village in 2020. They wanted to include an outdoor art project that would be big and colorful and something everyone in the village could get behind. Committee members were familiar with public art installations like Chicago's Cows on Parade, Lighthouse for the Blind's painted lighthouses, and Batavia's spunky bulldogs.
"I suggested painted squirrels," said Jennifer Leventhal, LB 125 Committee member and a co-chair of Dogs on the Bluff with Pam Russell, VP of the Lake Bluff History Museum, and Sandie Bacon, co-president of Artists on the Bluff.
If there's one thing Lake Bluff has an abundance of, it's squirrels – and given that Jennifer is a cat person, squirrel watching was top-of-mind. But her fellow committee members suggested dogs for the art display, because there is a dog in almost every house, and the Village's own logo includes an image of a canine on the run.
Dogs it was. The Dogs on the Bluff public art display decorated Village streets and delighted everyone who saw them from July to September 2020.
The project took over a year of preparation. Back in 2019, Pam and Jennifer set out to structure the project, and Sandie recruited professional artists and amateur artists to submit concept designs. She also created optional workshops on how to paint, decorate and weatherize the fiberglass structures.
Pam thought they'd get 25 sign-ups, maybe 30. When they reached 75 orders, they had to cap it off.
"At first we were a bit nervous no one would sign up. Then the orders came in," says Pam. "We even had a waiting list."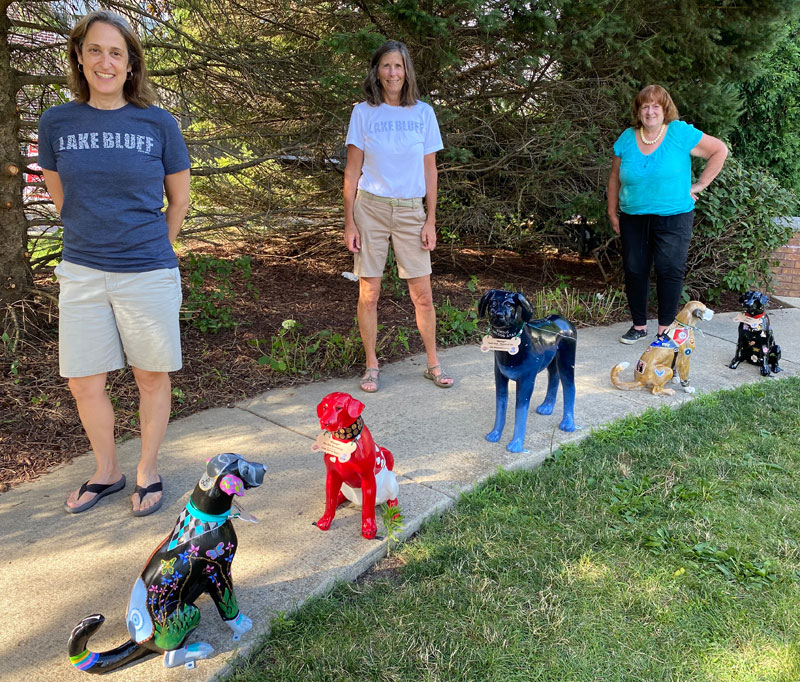 To recruit sponsors and artists, Pam and Jennifer promoted Dogs on the Bluff in multiple venues, including print media, village newsletters, Lake Bluff History Museum print and digital communications, LB 125 post cards sent to homes, and via social media.
They also:
promoted to artists and asked them to apply and submit designs that would be presented to sponsors who wanted to choose their dog's artist
approached local businesses directly
used postcards, local press and social media to reach individuals, families and organizations
Sandie Bacon painted a sample dog; the original Buddy. "We took him everywhere: He was in the 4th of July parade, Ribfest, the public safety open house, the Lake Bluff Farmers Market and even went to a Village Board meeting," says Pam.
Pam and Jennifer structured the project with a budget model where everything was self-funded so that they would have money in place before ordering the fiberglass forms. The committee decided to use Dogs on the Bluff promotionally rather than as a key fund-raiser, so sponsors could choose to keep their dogs after the event. Of the 70 some dogs, pups and fire hydrants, at least 15 have been donated and will be auctioned off, with proceeds going to the Lake Bluff History Museum. Auction details will be available in August.
Sometimes the project felt like a full-time job – a good one, says Pam.
"It was incredibly fun to be involved in a project that seemed to make everyone happy," says Pam. "Since my garage was the distribution point for unpainted dogs, the drop-off point for painted dogs, the quarantine location between artist drop off and taking them to Gregg's Auto Body for the final coat, staging area for preliminary photos, etc., I had the pleasure of meeting many of those involved in creating this art – and being the first to see the finished product."
Sandie was an invaluable resource. "She has been involved in many of these projects, and she also was able to provide guidance and recruit talent," says Pam. "She put us in touch with others who had organized similar projects."
"I am on the technical end of this," says Sandie of her role in Dogs on the Bluff. "Since I paint murals and teach with Golden Paints as an acrylic paint specialist, I advised people on what paints to use (high-end acrylics) and glues (2 part Apoxie Sculpt) to make them durable outdoors). We had each artist apply an 'isolation coat' . . . a clear coat that makes the varnish go on consistently and allows one to take off the varnish (if there was some graffiti or other damage), and preserve the paint layer underneath."
Greg's Auto Body of Lake Bluff also played an instrumental role, as it sprayed every single dog, puppy and fire hydrant with a protective coat of outside varnish. (The structures are weatherized but they are not child proof; please do not let children climb or sit on Dogs on the Bluff!)
Over the many months, problems arose, as problems are wont to do. The COVID-19 pandemic certainly threw a wrench into things – postponing production of the last batch of structures, causing some artists to miss deadlines, and contributing to the delay in the "unleashing" of the dogs throughout the village.
But unleashed they were! The village streets were lined with approximately 70 colorful dogs, puppies and fire hydrants throughout the summer of 2020.
"The dogs bring some sunshine into the world right now when there seems to be so much loneliness and dark days," says Jennifer. "As we were getting the dogs ready to be unleashed, people would stop and ask to take pictures. Residents just seem happy to see them."
Dogs on the Bluff later was memorialized in a beautifully designed a 110-page coffee-table book that can be purchased in the Museum's online store.