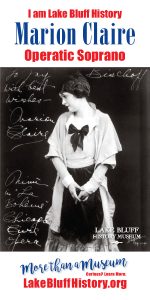 Marion Claire was an opera star in the 1920s and '30s, and in the 1940s was prima donna for Chicago Theater of the Air. She grew up in "the castle house" at 700 Center Avenue, a home that is still standing today.
Marion Claire Cook was born in Chicago in 1902 to Grace Minkler Cook, who was a pianist and organist, and Henry Wright Cook, a patent attorney, according to her bio on the IMBd website and obituary published after her death in 1988 in Florida's Sun-Sentinel newspaper. A concert violinist in her early years, she had her first violin concert at Ravinia Park (later known as Ravinia) when she was 10 years old. Marion attended Ferry Hall School in Lake Forest, a girls prep school, which much later — in 1974– merged into Lake Forest Academy.
Marion started taking voice lessons at age 21 and soon became an opera star in Europe and the U.S., performing in Italy, Germany and France. According to her obituary, her roles included Marguerite in "Faust", Freia in "Rheingold" and Micaela in "Carmen" — and in operettas and stage plays like "Desert Song", "Nightingale" and "Bitter Sweet". In 1934, she starred in "The Great Waltz" on Broadway, and in 1937 she shared billing with Basil Rathbone in RKO's "Make A Wish" movie musical.
In 1929 Marion married Henry Weber, conductor for the Chicago Civic Orchestra, and she worked with him on the popular Chicago Theater of the Air radio show, where she was prima donna.
Marion Claire died at age 83 and is buried in Lake Forest Cemetery.
You can hear some of her performances on Chicago Theater of the Air and also on The Internet Archive.