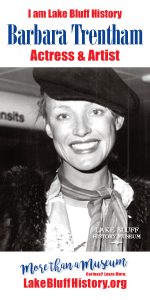 Barbara Trentham (1944 – 2013) was an actress, model and artist. In the early 1970s, her photo appeared on many prominent magazine covers, including the English edition of Vogue. As an actress she starred in the 1975 film "Rollerball," and had supporting roles in numerous other 1970s films.
Trentham married actor/comedian John Cleese in 1981, and they had a daughter together, but the marriage ended in divorce in 1990. Shortly before the divorce, she rekindled her lifelong interest in oil painting. In 1993, she moved to Chicago, where she met and five years later married Lake Bluff lawyer George Covington.
Here her art work flourished. Trentham co-founded the arts group Artists on the Bluff, and her art studio in Lake Bluff became the meeting place and source of inspiration for local artists.