Give a gift of Lake Bluff with unique merchandise available for purchase in the museum.
Books
Lake Bluff 1895-2020
To commemorate the 125th anniversary of the incorporation of Lake Bluff, this fabulous book is filled with photographs and narrative highlighting events and people contributing to the community's growth and development as it transitioned from a summer resort to a popular North Shore suburb.
Written by Kathleen O'Hara, this book is a must have for fans of Lake Bluff and history.
Dogs on the Bluff
The popular public art display Dogs on the Bluff has been memorialized in this beautifully designed book with 110 colorful pages of pups, dog tales and fan pics. A  great way to remember the summer of 2020, when colorfully painted dogs graced the streets and parks of Lake Bluff.
To order books, mugs, notecards and more, use the Add to Cart Button below.
If shipping (available for books only) is required, please select and pay for the shipping option as well (1-2 books shipped to the same address).
Mugs, Cards and More
Choose your favorite or one of each: the Lake Bluff Orbs Mug captures a favorite Lake Bluff holiday scene; the colorful Map Mugs highlight key locations in Lake Bluff, from 1895-present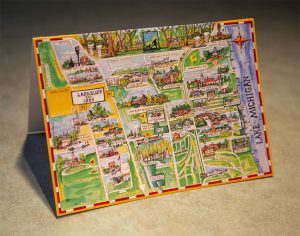 Boxed notecards and envelopes (10 per box) display a whimsical map of Lake Bluff created by Mark McMahon.
Posters of this whimsical map is are offered with blue or olive green background and measure 16″ x 20″.
Signed Fine Art Giclée Prints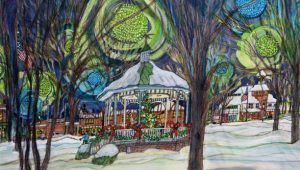 Beautiful, signed prints of Lake Bluff-themed artwork created by Mark McMahon are available through the museum. Choose from a winter scene of Orbs on Village Green, the whimsical Lake Bluff Map  and the Lake Bluff Ice Truck.
Each design is available in 3 sizes and is signed by the artist. If shipping is required, please select and pay for that option too.
The giclée prints are offered in the following sizes:
10 x 12 matted to 18.5 x 16 – for $175
16 x 20 image for $250
22 x 30 image for $400