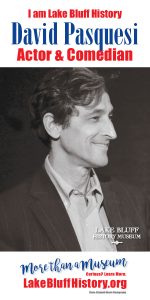 You've probably seen Lake Bluff native David Pasquesi recently, though not likely in the village, as the Chicago-based actor and writer has been very busy. In May 2019, he wrapped up the final season of "Veep", where from 2012 to 2019 he portrayed Andrew Meyer, ex-husband of the HBO show's main character, Selena Meyer, portrayed by Julia Louis-Dreyfus. Pasquesi's other screen credits include "Groundhog Day", "Strangers with Candy", "Curb Your Enthusiasm", "Return to Me", "The Ice Harvest", and "At Home with Amy Sedaris".
A writer, comedian and voice-over artist, Pasquesi has performed at The Second City, Goodman Theatre and Steppenwolf Theatre, to name a few of the other places you may have seen him.
David lived in the West Terrace on West Hawthorne Street from age 1 to 19. He attended Lake Bluff Elementary School for kindergarten, The School of St. Mary for grades 1 through 8, and Lake Forest High School. His parents later moved to Sunrise Avenue across from the park overlooking Lake Michigan.
David says he's proud to be from the village, and recalls playing in the woods of the Priory at StoneBridge before it became known as Harrison House.