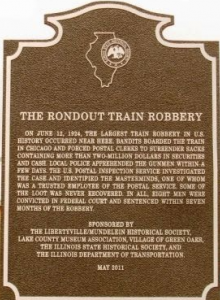 Have you driven by that historical marker on Route 176 near Rondout wondering what it is all about? It marks the site of the largest train robbery in U.S. history. . . one that happened just down the road from Lake Bluff!
Join us to get the scoop on the train robbery and the characters involved in the heist when the Museum hosts The Great Rondout Train Robbery at North Shore Distillery. The presentation, on Tuesday, June 4 at 7 pm, is the first event in Lake Bluff History Museum's new Distilling History Series. We are thrilled to offer this, and future events in the series, in partnership with North Shore Distillery.
Tickets are $25 and include a cocktail, light snacks and this entertaining program.
We plan to sponsor events periodically throughout the coming year to share local lore and history. Stay tuned for details on upcoming series events which include sharing a ghost story or two along the way . . .
When: Tuesday June 4, 2019 – 7 pm
Where: North Shore Distillery
13990 Rockland Rd, Libertyville, IL 60048
Cost: $25
Reservations: Purchase tickets online using the Buy Now button, below. Tickets will be sold at the door on a space available basis.
Questions? Call 847 482-1571 or e-mail events@lakebluffhistory.org