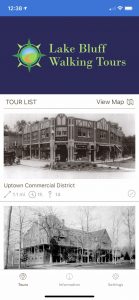 The Lake Bluff History Museum in spring 2020 launched a brand-new app for smart phones and tablets, providing mobile tours of the village's most iconic and historically significant buildings, neighborhoods and stories.
One tour covers the Uptown Commercial District, the center of commercial activity in the Village from the 1880s to the 2020s. This tour starts at Village Hall and takes you through the commercial district and nearby neighborhoods.
Another tour guides users through the former site of Lake Bluff Camp Meeting Grounds. From 1875 to 1900, the Lake Bluff Camp Meeting Association sponsored summer religious and social events on their grounds in east Lake Bluff.  This tour takes you through the neighborhoods established during this era.
A third tour provides a tour of Camp Meeting Cottages. This takes walkers around residential neighborhoods to the sites of summer cottages and country homes that were built beginning in the 1880s, with many ultimately converted for year-round use.
A tour launched in July focusses on the Dogs on the Bluff public art installation, produced by the Lake Bluff 125 Committee to celebrate the village's 125th anniversary in a very public, very joyful way. The Dogs walking tour shares stories, locations, sponsor names and artist information. It is a useful guide to the Dogs, and also is a great opportunity for those who don't live nearby to experience the public art exhibit digitally.
Thanks to the Lake Bluff Library and LB125, there's even an instructional video to help users download and use the Dogs on the Bluff Walking Tours app:
The Lake Bluff Walking Tours app is a mobile expansion of the Museum's popular docent-led walking tours.  The tours are very interesting and informative and include stories and photos from the Museum archives.
The app is a gift to the community from the Lake Bluff History Museum and Lake Bluff 125 Committee with support from Abbott in honor of the village's 125th anniversary. You can download the Lake Bluff Walking Tours app from the Apple App Store and Google Play.