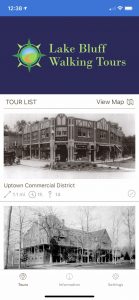 A brand-new app for smart phones and tablets launched May 15, with two tours offered.  This free app provides digital tours of the village's most iconic and historically significant buildings, neighborhoods and stories.
One tour covers the Uptown Commercial District, the center of commercial activity in the Village from the 1880s to the 2020s. This tour starts at Village Hall and takes you through the commercial district and nearby neighborhoods.
The other tour guides users through the former site of Lake Bluff Camp Meeting Grounds. From 1875 to 1900, the Lake Bluff Camp Meeting Association sponsored summer religious and social events on their grounds in east Lake Bluff.  This tour takes you through the neighborhoods established during this era.
Eight more tours are planned for the Walking Tour app, with several to be added this summer.
The Lake Bluff Walking Tours app offers a modern, digital extension of the Lake Bluff History Museum's popular docent-led tours. The app includes many period photographs from the museum's archives.  The app was produced by museum board members Steve Kraus and Mark Dewart and local resident Dan Huston, using a highly regarded history tour software package. The first two tours were narrated by Lake Bluff voice-over talent Lise Dominique and Walt Sloan.
The app is a gift to the community from the Lake Bluff History Museum and Lake Bluff 125 Committee with support from Abbott in honor of the village's 125th anniversary. You can download the Lake Bluff Walking Tours app from the Apple App Store and Google Play.