General Douglas MacArthur (1880-1964) was a five-star general who served as Chief of Staff of the United States Army during the 1930s and played a prominent role in the Pacific theater during World War II. In 1951, General MacArthur was fired by President Truman as the commander-in-chief in Korea in the midst of the Korean War. This was a highly controversial decision and MacArthur was considered a front-runner in the next presidential election.
But what is the famous American military leader's connection to Lake Bluff?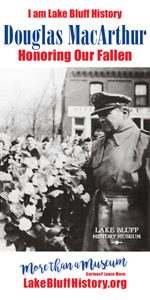 In April of that year (1951), not long after he gave his "old soldiers never die, they just fade away" farewell address to the U.S. Congress, MacArthur was driving in a motorcade from Chicago to his family home in Milwaukee. The Lake Bluff Women's Club heard that he would be traveling along Sheridan Road through the village but that there were no planned stops on his journey.
That didn't sit well with the Women's Club!
Fortunately, they had clout in the village, as the president of the club's husband was Lake Bluff's chief of police. She got the chief to have the police close off Sheridan Road so the motorcade would be diverted into the village and and stop at the war memorial in the village green, where she wanted MacArthur to place a wreath. The LBPD did as she wished, and a rather bewildered general did place a wreath at the memorial. Only then were the barriers removed and the general allowed to go on his way.