John J. Murdock (aka J.J.)  was a bigwig in the U.S. vaudeville circuit and in Hollywood during the Golden Age of movies in the early decades of the 20th Century. He was also, for a time in the early 1900s, a prominent resident of the Village of Lake Bluff.
Born in Scotland in 1867, Murdock emigrated to the U.S. when he was 12. He began his career in entertainment as a stagehand in Cincinnati, according to his obituary in the December 1948 New York Times, then moved to Chicago, where he managed several theaters before joining the Keith-Albee vaudeville empire, of which by 1912 he was general manager. He became a self-made millionaire who, in the world of entertainment was considered to be "ruthless, a small, innocent-looking man with considerable guile and a strong sense of the value of money," according to the Encyclopedia of Vaudeville.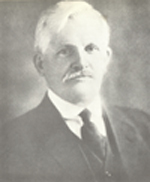 But in Lake Bluff, he had a reputation as a generous community leader. And he loved beautiful homes: In the early 1900s he built the large Victorian house (which is still gorgeously standing today) at the northeast corner of Center and Maple Avenues in Lake Bluff. His love of beautiful homes followed him to New York in the 1920s, where he lived in a stately mansion in Larchmont outside of New York City for a number of years and was considered a noted horticulturist.
After Lake Bluff, Murdock's work in the vaudeville circuit eventually led to him becoming one of the founding members of Radio-Keith-Orpheum. This organization later morphed into RKO Pictures Corp., which grew into one of the Big Five movie studios during Hollywood's Golden Age. Murdock was RKO's first president and later chairman of the board, and he is said to have recruited Joseph P. Kennedy (father of President John F. Kennedy) to the organization. He also was the uncle of Martha Sleeper, an actress who made a name for herself in both silent movies and talkies, as well as on Broadway.
By 1927, Murdock was one of the 20 wealthiest men in show business, with a fortune estimated at $12 million, according to the Larchmont (NY) Historical Society.
After retiring from RKO, Murdock devoted himself to philanthropy, donating millions to cancer research. But his philanthropy began long before when he still lived in Lake Bluff. In 1910, according to the Lake Bluff Chat newspaper, Murdock donated the funds for a club room for the Lake Bluff Volunteer Fire Department. At the dedication of the club, which was  then located in Village Hall, the fire chief stated that the fire department had "wanted to name it the Murdoch Pleasure Club, but Mr. Murdoch was emphatic in his refusal to allow it, saying it would take away from the value he desired to give the organization and suggested the name since adopted: The Lake Bluff Volunteer Department club."
Years later he established the Murdock Research Laboratories and Clinics in Malone, N.J. and New York City, as reported in the NYT obituary.
Murdock died on Dec. 8, 1948, at the age of 85.