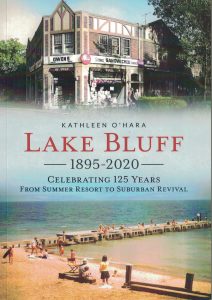 Just Released: Lake Bluff 1895-2020
To commemorate the 125th anniversary of the incorporation of Lake Bluff, this fabulous book is filled with photographs and narrative highlighting events and people contributing to the community's growth and development as it transitioned from a summer resort to a popular North Shore suburb.
Written by Kathleen O'Hara, this book is a must have for fans of Lake Bluff and history.
To order, use the Buy Now button.
If shipping is required, select the second or third option from the drop down book option menu (click the downward pointing arrow): these options include shipping fees to the same address. Please submit separate orders if you wish to ship to multiple addresses.
If you prefer to pay by check, click here to print an order form and mail it with payment to Lake Bluff History Museum, PO Box 250, Lake Bluff, IL 60044.
Local customers will be contacted to arrange pick-up of the book at Lake Bluff History Museum.
Purchase options include:
Book for local customer pickup (no shipping) – $25
1 Book plus shipping fee – $35
2 books plus shipping fee – $60
Shipping fees only, if not included previously
For out-of-town orders that require shipping, please click the arrow to display all purchase options and select the appropriate book plus shipping option.