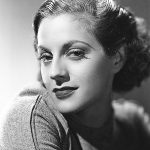 Martha Sleeper's name might not ring a lot of bells today, but she was once well known in Hollywood, on Broadway and in the jewelry and clothing design trades. She was born in Lake Bluff in 1910 to Minnie (her mom) and William Sleeper, and she had deep theatrical roots, as her father worked for a prominent chain of vaudeville and motion picture theaters –Keith-Albee-Orpheum Corporation — and her uncle, John J. Murdock (who also lived in Lake Bluff), was a bigwig in vaudeville and later in Hollywood from the 1900s to the 1930s.
Martha was in her first silent movie at age 13 and was soon after signed by the Hal Roach Studio to perform in the "Our Gang" series. Between 1924 and 1925 she appeared in 28 films, as reported by SilentHollywood.com From 1925 to 1927, she played opposite the Hal Roach Studio's male stars. She moved to the FBO Studion in 1927 and starred in six silent movies in 1928-29. When sound was introduced to movies in 1930, Martha moved to MGM Studios. From 1930 to 1936, she played several supporting roles in "talkies", often cast as a proper, well-dressed socialite who played second fiddle to prominent leading ladies of the time, such as Katherine Hepburn, Barbara Stanwyck and Ingrid Bergman.
But she wanted to do more than just play parts where she lost the leading man to another woman. In 1932, she began performing on stage in Los Angeles and the surrounding area, including as Eliza Doolittle in "Pygmalion" in 1932. In 1936 she moved with her husband, actor Hardie Albright, to New York to pursue a career on the stage and performed in 11 Broadway productions into the late 1940s, including as Spencer Tracy's wife in the Broadway play "The Rugged Path." She returned to film in 1945 to take the role of Patsy's mother in "The Bells of St. Mary's", which was her last screen performance.
Off-stage and away from cameras, her career veered in new directions. Prior to World War II, Martha started designing whimsical costume jewelry made of bakelite, wood and metal, which you can still find for sale today on websites like ebay and Etsy. In 1950, a year after she moved to Puerto Rico, she began designing and selling clothing, according to the Vintage Fashion Guild.