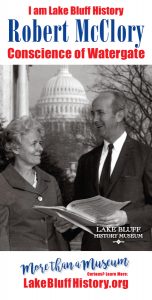 Robert McClory (1908-1988) served as a US Congressman for 10 terms from 1962-76 and was a key figure in the Watergate impeachment proceeding against Richard Milhouse Nixon.
He graduated from Dartmouth College in 1928 and from Chicago–Kent College of Law in 1932. He practiced law in state and federal courts in Cook County and Lake County. From  1933–1937 he served in the United States Marine Corps Reserve.
In Lake Bluff McClory lived on Prospect Avenue, was a long-time Boy Scout leader of Lake Bluff troop 42 and served as village attorney.