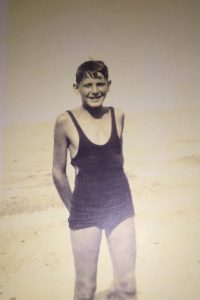 Robert Rockwell is a Lake Bluff native who had roles in more than 350 TV shows and 200 commercials in his nearly 50-year Hollywood career. He was most famous as "Mr. Boynton", an awkward but heart-throbby biology teacher on "Our Miss Brooks," a sitcom that started on the radio and then ran on CBS-TV from 1952 to 1956 in the early days of television. Rockwell later said the role made it hard for him to get cast in more dramatic parts because his audience so closely associated him with the Mr. Boynton character.
He did pretty well for himself, anyway, and managed to stay busy for his entire career, including starring in his own series on ABC-TV in 1959-60, "The Man from Blackhawk", where he played an investigator assigned to weed out insurance claims fraud. He also had several roles on other shows that almost everyone (maybe everyone over 40?) has seen or at least heard of, including "Lassie," "Adam-12," "Superman," "Perry Mason," "The Bill Cosby Show," "Pettycoat Junction," and even "Beverly Hills 90201". He also performed on Broadway in a production of "Cyrano de Bergerac," and he played opposite Ginger Rogers  in a San Diego production of "A More Perfect Union."
And before all of that, he was a Lake Bluff kid, son of Margaret H. Rockwell, principal of Lake Bluff School. Above is a photo of him on the beach in Lake Bluff when he was 14.
Rockwell died in January of 2003 when he was 82.