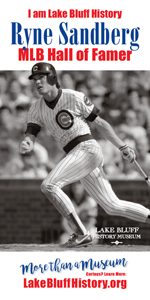 Ryne "Ryno" Sandberg (1959-) is the most famous retired professional baseball player ever to have called Lake Bluff home. The Major League Baseball Hall of Fame second baseman and former manager moved to the village in 2016 with his wife, Margaret, after a storied career with the Chicago Cubs and Philadelphia Phillies. Now when the cold winter finally segues into (usually just as cold) spring, the 10-time All-Star throws the first pitch at opening day for Lake Bluff Youth Baseball Association, where his grandsons play.
Sandberg joined the Chicago Cubs in 1981 and retired — for the first time — in 1994, saying at the time that he wasn't playing at his peak. He returned to the Cubs for two seasons in 1996 and '97 and was inducted into the Hall of Fame in 2005. His number 23 was retired in a ceremony at Wrigley Field on August 28, 2005.
Between 2006 to 2010, Sandberg managed the Cubs' Class-A Peoria Chiefs in the Midwest League, then the Class Double-A Team Tennessee Smokies in the Southern League, and later the Triple-A Iowa Cubs. In 2010, he was named manager of the Philadelphia Phillies' top minor-league affiliate, the Lehigh Valley IronPigs, until season's end in 2012, when he returned to the big league, literally, as third base coach and infield instructor of the Philadelphia Phillies. There his star rose again, being named interim manager and then permanent manager in 2013 with a three-year contract.
Sandberg resigned from the position of Phillies manager in June 2016. Today, in addition to being a devoted husband, father and grandfather and occasional pinch hitter for LBYBA, the National League's 1984 Most Valuable Player and a nine-time Gold Glove is a goodwill ambassador for the Cubs organization.