Have you ever wondered who walked these sidewalks before you? Who might have grown up just down the street? People, places and events – from the expected to the remarkable – all are part of Lake Bluff's history. To celebrate the Lake Bluff in all of us, the Museum's I am Lake Bluff History campaign brings to the forefront real people in the Village's past and present whose impact has reached far beyond the Bluff.
Athletes, artists, politicians, entertainers, activists, inventors, entrepreneurs, executives and more have contributed to the historic tapestry of Lake Bluff, our country, and-at times-the world stage.
Look for their photos on banners hung in town, social media postings, articles, this website and other communication avenues that push beyond the Museum's physical boundaries.
We've highlighted a few of Lake Bluff's most notable people on our website: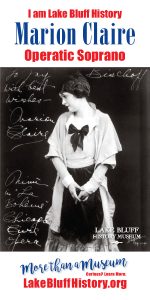 Marion Claire (1902–1988) was an opera star in the 1920s and '30s, and in the 1940s was prima donna for Chicago Theater of the Air. She grew up at 700 Center Avenue.
Draper Daniels, a prominent Ad Man in the 1950s and '60s, is said to be a model for the infamous Don Draper character on AMC-TV's "Mad Men." He raised his family in Lake Bluff and was a charter member of Lake Bluff Bath & Tennis Club.
Emma Goldman infamous anarchist and radical, visited acquaintance Margaret Anderson who summered in Lake Bluff's artist colony.
Hadley Richardson Hemingway (1891-1979), first wife of Ernest, married Paul Mowrer, a Pulitzer Prize-winning journalist, after divorcing Ernest.  In 1936 Hadley and Paul built a colonial style home in Shore Acres, Lake Bluff where they lived with Jack "Bumby", Ernest and Hadley's son. Paul was then the managing editor of the Chicago Daily News.  They lived there until the end of WW II and Jack attended Lake Forest High School for a year before attending boarding school.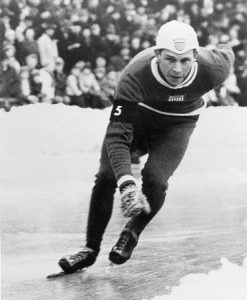 Ken Henry (1929-2009) was the first American to win a gold medal for speed skating, taking home the gold in  1952. He skated in three Olympics ('48, '52 and '56), and he was selected to light the final torch at the 1960 Olympics in Squaw Valley, CA.  Henry served as a coach on the American men's and women's Olympic speed skating teams in the late 1960s and early 1970s and was golf pro at Glen Flora Country Club in Waukegan from 1955 to 1994. He lived in Lake Bluff's West Terrace. Henry died in 2009.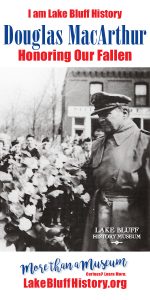 General Douglas MacArthur (1880–1964) was a five-star general who served as Chief of Staff of the United States Army during the 1930s and played a prominent role in the Pacific theater during World War II. In 1951, General MacArthur was fired by President Truman as the commander in chief in Korea in the midst of the Korean War. Shortly thereafter, he made a brief stop in Lake Bluff!
Robert McClory (1908-1988) served as US Congressman for 10 terms from 1962-76 and was a key figure in the Watergate impeachment proceeding against RIchard Milhouse Nixon. McClory lived on Prospect Avenue, was a long time Boy Scout leader of Lake Bluff troop 42 and served as village attorney.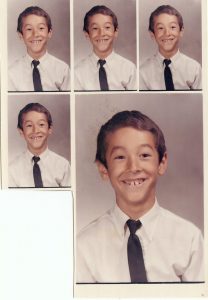 David Pasquesi  (1960-) is a comedic actor whose screen credits include "Groundhog Day," "Curb Your Enthusiasm," and "Veep." He grew up in Lake Bluff from age 1 to 19.
Ryne Sandberg(1959-) professional baseball player, coach and manager, played Major League Basebeall for the Philadelphia Phillies and Chicago Cubs.
Dr. Donalee Tabern (1900-1974), the inventor Sodium Pentathol, was an employee of Abbott Laboratories. Sodium Pentathol is a sedative that has become one of the most widely used anesthetics in the world. Tabern also pioneered the use of radioactive materials in biology and medicine and held more than 50 patents for his inventions. 
Barbara Trentham (1944-2013) was an actress and artist. Trentham starred in the 1975 film "Rollerball", worked as a model in London in the 1970s and appeared in numerous other 1970s films. She married actor/comedian John Cleese in 1981, divorced, and married Lake Bluff lawyer George Covington in 1998. A co-founder of Artists on the Bluff, her art studio in Lake Bluff became the meeting place and source of inspiration for local artists.
William "Billy" Vanderkloot Jr. (1915-2000) served as Winston Churchill's pilot during World War II.  During the 1930s, Billy practiced flying by buzzing over Prospect Avenue in a wooden bi-plane — at treetop level.  Billy was the son of William Vanderkloot, owner of a Chicago steel mill and Lake Bluff village president from 1917 to 1923.
Charles Hitchcock (1878-1964) was a vaudeville performer and silent movie actor in the early 1900s who performed with Charlie Chaplin. Later he was Lake Bluff Police Department deputy.
John J. Murdock (1867-1948) was a bigwig in vaudeville and movies during Hollywood's Golden Age. Early on, he was a prominent Lake Bluff resident who donated funds for Lake Bluff Fire Department's rec room, and he built a gracious home on Center and Maple Avenues.
Martha Sleeper  (1910-1983) was an actress with MGM Studios and on Broadway. JJ Murdock was her uncle.
William Penhallow Henderson (1877-1943) was a well-known American painter, whose work included murals, book illustrations and paintings and have been exhibited at the Art Institute of Chicago. Henderson designed and built his Lake Bluff house and studio.
Alice Corbin Henderson (1881-1949) was a poet who became co-editor of Poetry Magazine. She and husband William moved to Park Place in Lake Bluff in 1914. The Hendersons regularly entertained writers and artist from around the world.
Robert Rockwell (1920-2003) acted in more than 350 TV shows and 200 commercials, most famously CBS-TV's "Our Miss Brooks" from 1952 to 1956. His mother was principal of Lake Bluff School.
Margaret Lindman (1929-2016) started as a Lake Bluff school teacher and went on to create a "Just Imagine," a puppet TV show for children in the 1950s and '60s on WTTW.
Andrew Bird (1973- ) is an American indie rock multi-instrumentalist, singer, and songwriter.
Cynthia Rhodes (1956- ) is a retired American actress, singer and dancer whose screen credits include popular '80s movies "Flashdance," "Staying Alive" and "Dirty Dancing."
Richard Marx (1963- ) is a contemporary and pop/rock singer, songwriter, musician and record producer who has sold more than 30 million records.